Improve facility and class management. Automate sales. Focus on strengthening the positive experiences of your clients.
Take advantage of the opportunities that GYMMANAGER gives you in the management of a fitness club and gym.


Several types of passes, including reservations for personal training, passes with an assigned trainer
Recurring payments
Several sales channels: offline, online, mobile

Customer segmentation, including the category of clients with children
Communication with clients: mailing, SMS and direct messages
Access control and separation of additional paid areas

Advanced reports, analytical panel
Automation of activities, extensive levels of employee authorisations
System branding consistent with the club's visual identity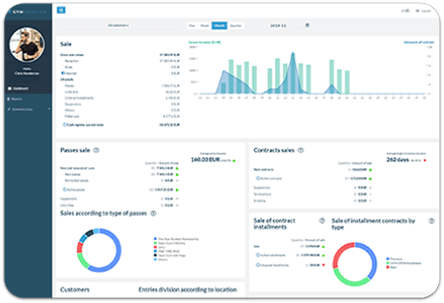 Analyse with
Manager Panel
Basic working tool for the manager of a fitness facility or a gym. It is here that the data on sales and activity of club members is collected and processed. The dashboard presents charts, KPIs and selected parameters on the basis of which you can quickly assess your club's condition. Systematically enriched with new reports, the Manager Panel is a proven partner in creating a business strategy.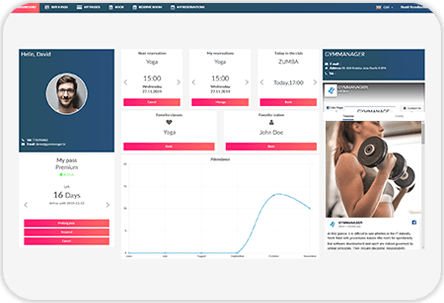 Discover the
Client Panel
A convenient, 24/7 sales channel for clubs that are no longer satisfied with traditional sale of passes at the reception desk. The online Client Panel allows you to independently manage your membership, purchase passes or make reservations for classes. Several forms of payment, including recurring ones, increase the business potential of your offer. Integrate the Client Panel with tools for Internet advertising – recover abandoned carts through remarketing.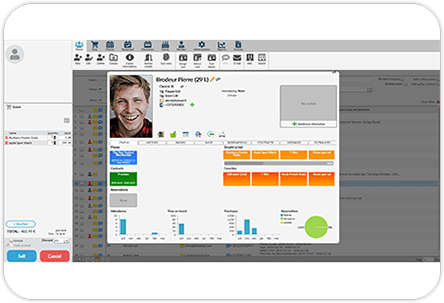 Work with the
Desktop Application
A fully functional module for sales and management of a fitness facility, created for the needs of reception staff and requirements of managers. You can sell passes, products and services from the Desktop Application. You organise the schedule of classes and provide rooms for personal training. The management of club and its offer is supported by options related to access control, customer segmentation or warehouse management. Dozens of reports facilitate the decision-making process.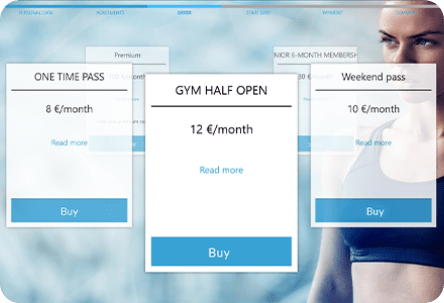 Sell with the
Self-service Kiosk
Take the burden off the reception staff and direct clients to the Self-service Kiosk. In this autonomous sales stand, they can create an account, buy a pass or make reservation for a class in just a few clicks. The Self-service Kiosk is integrated with several forms of payment, including recurring ones, and with a payment terminal.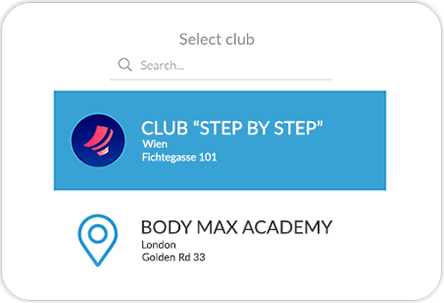 Increase the number of reservations for classes – run the sales channel in the mobile application. At GYMup! customers can evaluate classes, mark their favourites, and if they can't attend, they can cancel from the App and cede their place to other users. Increase the percentage of reservations received – send automatic notifications about upcoming classes.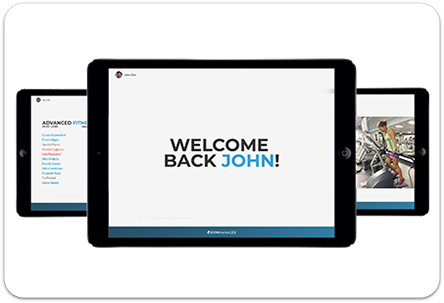 Extend user experience: video recording, greeting at the entrance, reminder of locker numbers, attendance list for the trainer, time control or assessment of classes? Choose solutions in the form of tablet applications that will build positive relationships with clients.
GYMMANAGER is a comprehensive software for managing fitness clubs and gyms. It is prepared for the moment when you decide to expand your offer with new activities or training rooms. See how sports facility management looks like, when using our software.