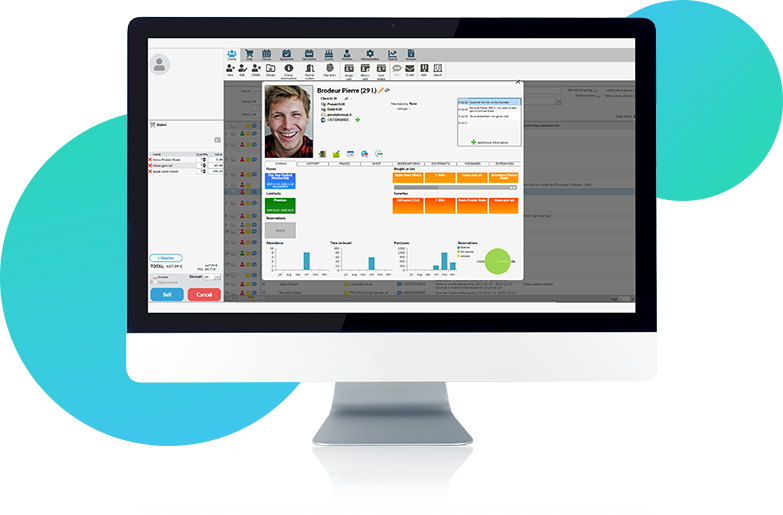 A Gym Point of Sale that's second to none. The GYMMANAGER helps fitness clubs manage their facility and staff more efficiently.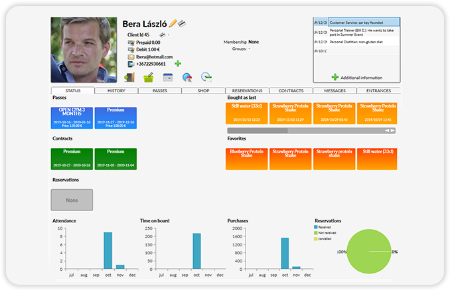 Clear presentation of each client's activity, completed with statistics and purchase history.
Watch clients' activity over time. View stats on classes attended, shopping history, and membership status. Analyze issues in advance.
Monitor sales incurred within your club. Influence the clients' purchasing portfolio, see the most frequently purchased products and recommend those that match their interests.
Email and SMS message history. See what notifications the client has already received, plan new formats.
Provide in-depth client information. Encourage staff to add information that will enrich client knowledge, needs and additional expectations.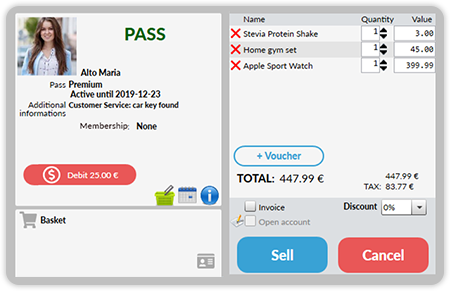 Send out SMS/E-mail notifications, also automated. Manage access and add partners. Edit Club members – assign them to specific groups or partner cards. Activate accounts in other sales modules. Serve the member with a "check in" view – useful information on the member of the club. Restrict the entrance of club members who do not notify of their absence at group classes.
Manage the facility
and 
your employees
Prepare your gym to welcome new members.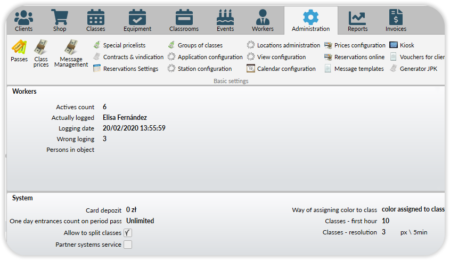 Manage the class schedule, room reservations, including reservations for personal training and equipment. Add new classes, manage the reserve list.
Select permissions of a
specific employee
Establish how much access the facility's employees have to data and whether they can process contracts, sales. Ensure the safety of highly sensitive information.
Set up sales in the club
and online
Easily create new customer service points, set up self-service kiosks, add rooms and add extra paid areas. Engage club members with additional sales channels. Generate vouchers – set the access level for clients.
Easily add class fees, sale types, payment methods and partners systems. Enable contract termination and debt collection features.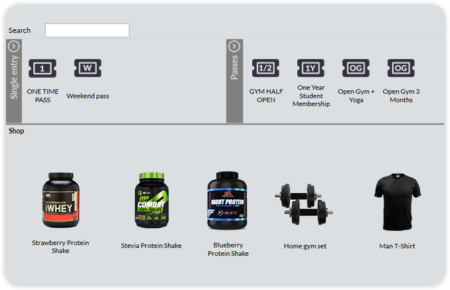 Sell products

– start up a fit bar
Build a complete club experience, taking into account all the different needs of your members.
Set up product categories, groups, services and recipes. Add new locations, show the main inventory.
Configure the
sales process
Choose acceptable payment methods, set up the sales procedure. Plug in fiscal devices. Issue sales documents.
Manage your gym's stock levels, check out the history of your supplies, keep records of inventory and storage.
Over 70 reports to analyze. Grow your business boldly. Create the future based on data.

fiscal and sales reports, activity of clients, their profile & expenses
Analyze over 70 reports. Grow your business boldly. Create the future based on data.
the financial health of your club, based on contracts sold or expected revenues from contract installments.
to how clients are using their passes. Identify inactive members of the club – get them to return.
The data that your club provides daily and the activity of your club members are saved not only in the POS. The in-depth fitness club analytics are kept in a separate tool in which all data is aggregated and processed.
Switch to GYMMANAGER Fitness POS. Run the club with a tech partner that

takes care of all aspects of your business

.